From a friend!
There is a pair of kitties in Lexington that needs your help. Their current caretaker is very allergic to them - she is literally risking her life, and she's finally hit the point where she cannot do it any more. They were dumped on her, and she has done her best by them. The kitties are a 2.5 year old brother and sister pair. They have never been separated, so if it's at all possible, they should be adopted together.
She can only keep them through Wed or Thurs, and after that, they go to the shelter. Anyone interested can reach me at kalitheblaze@gmail.com, and I will relay to her. She really doesn't want to take them to the shelter if she can find a good home for them. And of course, she wants to meet whoever is interested in the kitties if possible.
Here's her message about them:
Basic information: i'm in Lexington Kentucky and willing to drive up to 100 miles (this is an average road trip distance for me). The cats are around 2.5 years old, up to date on shots until April, are microchipped, and are brother/sister and really should stay together if humanly possible, they've never been separated. They would come with any food/litter i have left, cat bed, cat toys, cat brush, carriers, and a small cat perch (they have 6 foot cat trees but i can't fit those in my car, even dismantled). They do not bite or scratch people, and i've trained them not to claw my furniture (though the bottom of the couch is another matter, i'm not sure why they feel the need to rip the bottom out).
The brown one is brother cat, his name (and he occasionally responds to it) is Wunjo. He's a bit rambunctious and while he likes attention sometimes he gets the "too cool for you" attitude when it comes to being petted. He also thinks he's too cool to be brushed even though he gets mats without it. His favorite toy is those yellow rubber LiveStrong bands (or similar ones).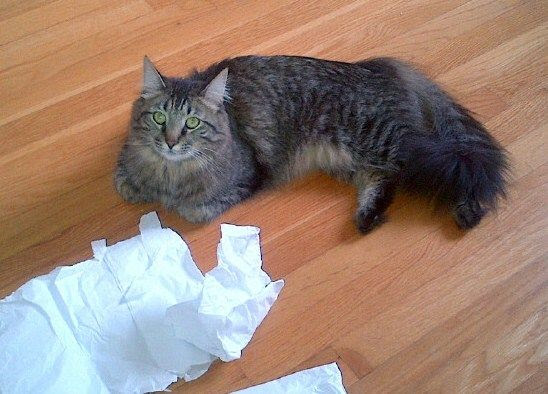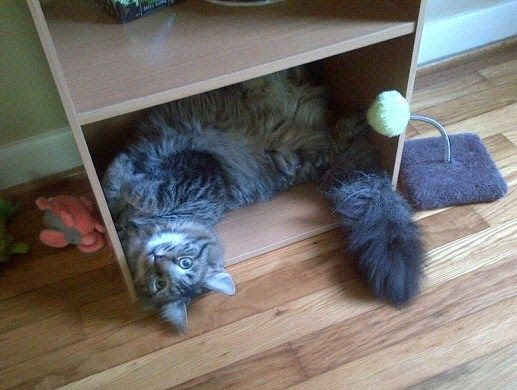 sister cat is the grey one, she refuses to respond to a name but she's known as Radha. Very shy and skittish with new people but can't get enough attention from people she knows. She purrs so loudly and will rub up against people so hard she falls over. Also needs regular brushing, most of the cat hair tumbleweeds in the house come from her. She isn't big on many cat toys, she mostly just wants to be petted.

There you have it!

Please reblog/repost!

Sounds like a really lovely Beta/Gamma pair. They will make someone fine housemates. Please help get the word out!