A fine time for insomnia to strike.
Cyrus T. Dog is no more. He shuffled off his three-legged mortal coil late yesterday evening. I'll spare you details of putting a pet down. If you've done it, you know. If you haven't, you don't want to. It wasn't as bad as I'd feared, and yet it was a hundred times worse. I'll never enjoy the feeling of discovering that I am, in fact, strong enough to do things I really do not want to do.
Life is that way. We just get swept along. We don't get many choices. Not about the nasty stuff.
I'm all right, Sargon is all right. I'm just very tired, and sort of raw-feeling. He, I imagine, is worse. Which is why I'm letting him sleep and not busting his ass for snoring so loud I had to get up at four in the morning.
Thank you to everyone who took the time to send positive thoughts our way. It's deeply appreciated. I'd go back and say "thank you" to everyone individually, because I always feel bad when I don't, but that would just get me leaking again. I've had enough sniveling for today, thanks. For now, take heartfelt hugs. You're good folks, and I'm glad you're with me. Honestly, it shocks me sometimes how much of my underbelly I can show you all. I feel safe here. Other people get trounced in their own journals, or flamed. That crap doesn't happen here, and I'm convinced it's not because I'm mean and scary. I think it's mostly because you're a good lot.
I have this desperate urge to speak to you, to just . . . be here, in this space with you. But I have nothing to say. I don't want to be philosophical. I don't want to have feelings or god forbid
talk
about them. I just want to sit and write porn and smell stinky perfume and maybe go out a little later and buy some hair dye so I can horrify my mother-in-law, assuming I can figure out how to apply it by myself. I want to paint, and watch The Phantom of the Opera, actually, which is what I'll do after I go to the store.
For now, I just love you guys. Thanks.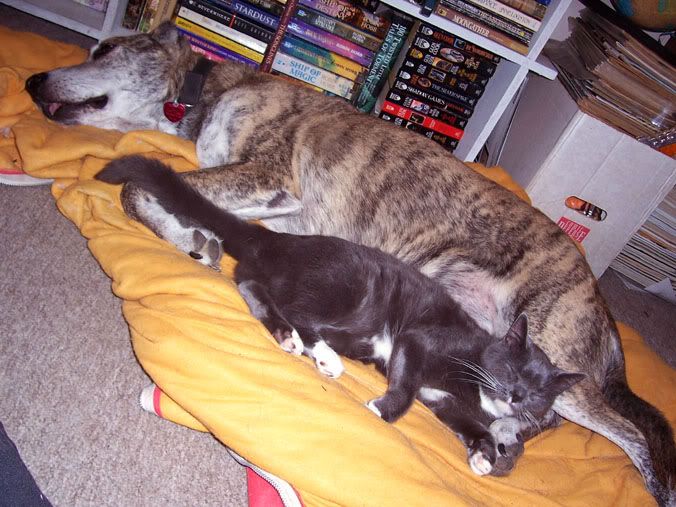 Them's friends.