Yesterday was . . . a day. Like any other day. Only worse.
I was too worried about other crap to really enjoy myself much. Dinner was other people talking. The high point of the night was when my dad began discussing the uncut version of Caligula with my in-laws. I think that may, in fact, have been the high point of the week.
He then lay down what I am pretty sure was a complete line of bullshit about how Mom proposed to him by telling him she was pregnant, and how he falsified first his driver's license and then his birth certificate in order to get married legally, whereupon he called the DA and asked exactly how much trouble he was in. There is a thread of truth in most of my fathers' stories -- he is not habitually a liar, though he does enjoy occasionally pulling legs -- but if the entirety of that yarn was true, I will eat it and crap a knitted scarf.
This is all just as well. I was in a Mood. If he hadn't entertained me, I'd have entertained myself by talking about Rasputin's pickled penis, or about porn, or buttsex, or all three, and that never leads anywhere good.
Of course, no family event is complete without a roll on the wandering anatomical event table, and adding a birthday in is just adding a +5 modifier. In the middle of dinner I realized that feminine TMI was about to occur when a stabbing pain made itself known in my groinal region. I made it home in time to contain it, but I am now achy and cranky, and that is all the complaining I will do about that, because I don't think I get to complain about cramps when a friend just had a bad go-round with a kidney stone.
I will say that at least two friends are in this boat with me, and even with company, it sucks.
Sargon supplied presents, however, and I am happy with that. I got
an excellent shirt
: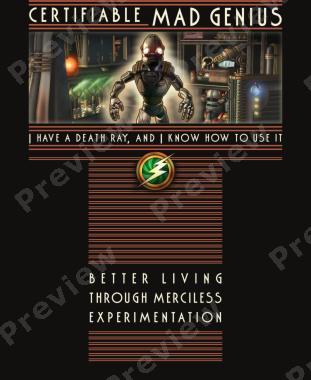 "Better living through merciless experimentation" is probably one of the better mottos I've seen.
The high point of the night was definitely torturing captives. Nothing like roleplaying a pirate to take the edge off one's frustrations. Alas, I am afraid I could roleplay for three days solid and still not work through all my hostilities.
I spent most of today in pain from the aforementioned TMI, and aside from time spent with friends and silly dogs, today had very little to recommend it.
That's . . . pretty much all the update I have tonight.